Resilience Yacht Description
Resilience yacht is a 82.00 ft long motor yacht monohull and spends the summer and winter season in Sicily. It was built by Alalunga in 2006. A refit was done in 2022 . The yacht layout features 4 cabins and accommodates 10 guests. The cabin arrangement is following: 2 queen cabins, 2 double cabins, 2 twin cabins, 2 pullman cabins.
The motor yacht features CAT 2 X 1670 HP DIESEL engines .
Accommodation
2 Double, 2 Twin, both with a third bunk bed suitable for children
Resilience Yacht Details
€25,000 - €32,000
Weekly price low-high season
500 Litres/Hr
Consumption
Resilience yacht charter price

| # of charter days | Base Price | APA (deposit for provisioning, fuel, docking fees, etc) | Taxes: 22%, exceptions available | Total | | Note |
| --- | --- | --- | --- | --- | --- | --- |
| 14 day charter | 50,000€ to 64,000€ | 10,000€ to 19,200€ | 11,000€ to 14,080€ | 71,000€ to 97,280€ | | Discounts outside the main season are common. |
| 7 day charter | 25,000€ to 32,000€ | 5,000€ to 9,600€ | 5,500€ to 7,040€ | 35,500€ to 48,640€ | | Standard charter rate, base for all calculations. |
| 3 day charter | 12,500€ to 16,000€ | 2,500€ to 4,800€ | 2,750€ to 3,520€ | 17,750€ to 24,320€ | | The usual formula is the 7 day charter rate divided by 6, times the number of days (3). Boat policy might differ. 25,000€ / 6 * 3 days = 12,500€ |

All prices are generated by a calculator and serve as a guide for new charterers. Any additional information of the Price Details section has priority over above. Availability is always subject to confirmation. Gratuity not included for it's discretionary character, usually 5%-25% of the Base Price.
Price Details
High season rate: €32,000
Please note, Rates 2022:
€ 32.000 July/August
€ 27.000 June/September
€ 25.000 other months
Please note, Rates 2022:
€ 32.000 July/August
€ 27.000 June/September
€ 25.000 other months
Price Terms
Plus Expenses
Resilience Yacht Charter Locations
Summer Season
Winter Season
Features
BBQ: 0
AC: Full
Cruising Speed: 23
Max Speed: 30
More Specifications
Homeport:
Ischia /Flexible
Diving Yacht offers Rendezvous Diving only
Air Compressor:
Not Onboard
Scuba On Board:
Yacht offers Rendezvous Diving only
Crew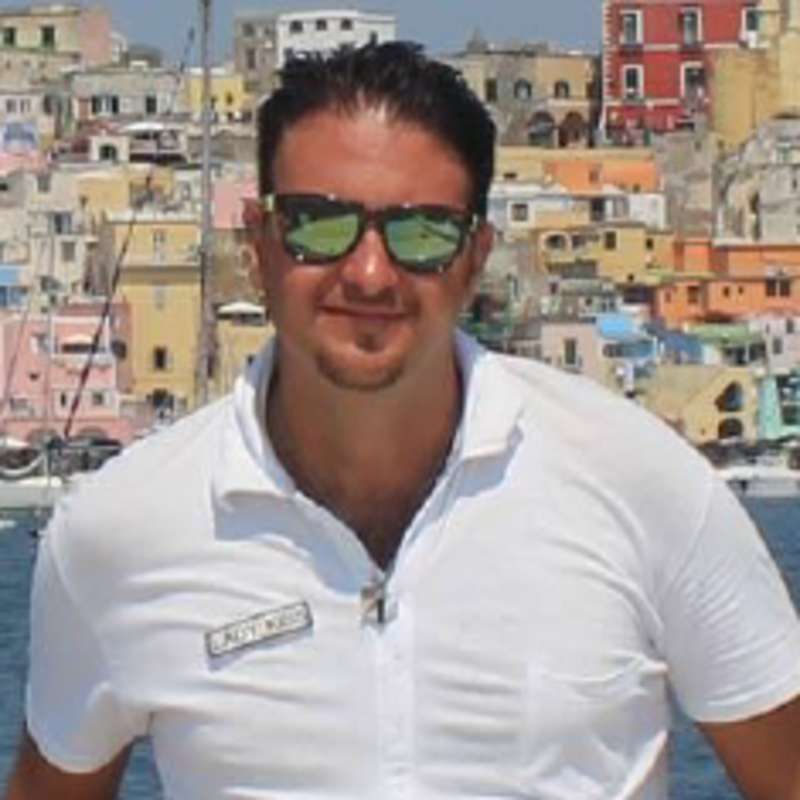 Captain
Deckhand
Stewardess
Captain: Savio Autore, Italian, 42 y.o.

Salvatore was born and raised in the beautiful city of Naples. Soon after taking his degree, he embarked for his first job in the yachting industry as a Deckhand/Chef, and he discovered his passion for the sea. He decided to attain all the qualifications to become a Captain and in 2006 he started working at the helm of a private yacht, where he remained for five years, before embarking on another yacht. Salvatore holds many years of experience on board and an extensive knowledge of the Mediterranean coasts.
He's very respectful and discreet, a real lover of the sea and also a great chef. His ability to create a relaxed and cheerful atmosphere on board his yachts has no equals and he's very skilled in suggesting insider's restaurants and activities. Italian mother tongue, he also speaks English and French.


Stewardess: Costanza Costigliola, Italian, 29 y.o.

Costanza's communicative nature makes her an invaluable part of the team.
With a cosmopolitan spirit, always interested in foreign languages and cultures, Costanza achieved the high school linguistic degree and decided to join Yachting Industry to fuel her passion for traveling and exploring new places and cultures.
Costanza is goal-oriented, flexible, organized, and has a strong team spirit.
Italian mothertongue, she holds the STCW certification and speaks a good level of English and a basic level of Spanish.

Deckhand: Alessandro Garcia, Italian, 26 y.o.

Born in the green island of Ischia, Alessandro has an extensive knowledge of Amalfi Coast and a proven experience of 4 years in the Yachting Industry.
After attending the Nautical School, he soon started working in the maritime field as deckhand aboard luxury charter yachts dealing with maintainance and refit works and mooring operations.
Alessandro is a very sociable person, he loves travelling and experiencing other cultures. He looks forward to welcoming all guests with a warm smile.
Italian mother tongue, he speaks a basic level of English.


Gallery
More Yachts Like Resilience
7545
http://www.centralyachtagent.com/snapins/json-ebrochure.php?idin=7545&uid=2395&user=2395
4
Power
N
https://www.centralyachtagent.com/yachtadmin/yachtlg/yacht7545/7545brochure88.jpg
10
W. Med -Naples/Sicily, W. Med -Riviera/Cors/Sard.
W. Med -Naples/Sicily, W. Med -Riviera/Cors/Sard.
82.00
5.90
1.80


Chase Seaplane available upon request and subject to availability!
a:35:{s:12:"salon_stereo";s:1:"0";s:8:"salon_tv";s:3:"Yes";s:6:"sat_tv";s:1:"0";s:17:"multimedia_system";s:0:"";s:4:"nude";s:3:"Inq";s:5:"books";s:0:"";s:9:"crew_pets";s:2:"No";s:8:"pet_type";s:0:"";s:10:"guest_pets";s:1:"0";s:9:"camcorder";s:1:"0";s:14:"number_dine_in";s:0:"";s:11:"water_maker";s:0:"";s:14:"water_capacity";s:0:"";s:9:"ice_maker";s:1:"0";s:14:"number_of_dvds";s:0:"";s:13:"number_of_cds";s:0:"";s:11:"board_games";s:1:"0";s:10:"sun_awning";s:1:"0";s:6:"bimini";s:1:"0";s:13:"special_diets";s:3:"Inq";s:6:"kosher";s:3:"Inq";s:3:"bbq";s:1:"0";s:12:"gay_charters";s:3:"Inq";s:17:"yachtNudeCharters";s:3:"Inq";s:10:"hairdryers";s:1:"0";s:22:"number_of_port_hatches";s:0:"";s:7:"smoking";s:0:"";s:11:"crew_smokes";s:3:"Inq";s:11:"children_ok";s:1:"0";s:17:"minimum_child_age";s:0:"";s:9:"generator";s:0:"";s:8:"inverter";s:0:"";s:8:"voltages";s:0:"";s:7:"hammock";s:0:"";s:10:"windscoops";s:0:"";}
Full
0
CAT 2 X 1670 HP DIESEL
2006
Alalunga



2 Double, 2 Twin, both with a third bunk bed suitable for children
EUR
€
25000
25000
32000
Please note, Rates 2022: € 32.000 July/August € 27.000 June/September € 25.000 other months


Salvatore was born and raised in the beautiful city of Naples. Soon after taking his degree, he embarked for his first job in the yachting industry as a Deckhand/Chef, and he discovered his passion for the sea. He decided to attain all the qualifications to become a Captain and in 2006 he started working at the helm of a private yacht, where he remained for five years, before embarking on another yacht. Salvatore holds many years of experience on board and an extensive knowledge of the Mediterranean coasts.
He's very respectful and discreet, a real lover of the sea and also a great chef. His ability to create a relaxed and cheerful atmosphere on board his yachts has no equals and he's very skilled in suggesting insider's restaurants and activities. Italian mother tongue, he also speaks English and French.


Stewardess: Costanza Costigliola, Italian, 29 y.o.

Costanza's communicative nature makes her an invaluable part of the team.
With a cosmopolitan spirit, always interested in foreign languages and cultures, Costanza achieved the high school linguistic degree and decided to join Yachting Industry to fuel her passion for traveling and exploring new places and cultures.
Costanza is goal-oriented, flexible, organized, and has a strong team spirit.
Italian mothertongue, she holds the STCW certification and speaks a good level of English and a basic level of Spanish.

Deckhand: Alessandro Garcia, Italian, 26 y.o.

Born in the green island of Ischia, Alessandro has an extensive knowledge of Amalfi Coast and a proven experience of 4 years in the Yachting Industry.
After attending the Nautical School, he soon started working in the maritime field as deckhand aboard luxury charter yachts dealing with maintainance and refit works and mooring operations.
Alessandro is a very sociable person, he loves travelling and experiencing other cultures. He looks forward to welcoming all guests with a warm smile.
Italian mother tongue, he speaks a basic level of English.

";s:5:"photo";s:0:"";s:4:"size";s:1:"3";s:12:"captain_name";s:13:"Savio Autore ";s:14:"captain_nation";s:8:"Italian ";s:12:"captain_born";s:1:"0";s:15:"captain_license";s:0:"";s:18:"captain_yr_sailing";s:1:"0";s:21:"captain_yr_chartering";s:1:"0";s:17:"captain_languages";s:34:"Italian, English, French, Spanish ";s:9:"crew_name";s:17:"Alessandro Garcia";s:16:"crew_nationality";s:8:"Italian ";s:12:"crew_license";s:0:"";s:15:"crew_yr_sailing";s:1:"0";s:18:"crew_yr_chartering";s:1:"0";s:7:"crewimg";a:3:{i:1;a:2:{s:3:"url";s:73:"https://www.centralyachtagent.com/yachtadmin/yachtimg/yacht7545/7545crew1";s:4:"desc";s:8:"Captain ";}i:2;a:2:{s:3:"url";s:77:"https://www.centralyachtagent.com/yachtadmin/yachtimg/yacht7545/7545crew2.jpg";s:4:"desc";s:9:"Deckhand ";}i:3;a:2:{s:3:"url";s:76:"https://www.centralyachtagent.com/yachtadmin/yachtlg/yacht7545/7545crew3.jpg";s:4:"desc";s:11:"Stewardess ";}}}
a:16:{s:4:"info";s:2201:"Captain: Savio Autore, Italian, 42 y.o.
https://www.centralyachtagent.com/yachtadmin/yachtlg/yacht7545/7545brochure1.jpg
Resilience is an elegant and refined Alalunga 78 launched in 2006 and fully refitted in 2014, further extra refit underwent from 2016 to 2018 and is currently going through a major refit by the new Owner ( Winter 2021/2022). She features welcoming and refined interiors, finely appointed. The lower deck includes the night layout and offers accommodation for up to 10 guests in 4 luxurious staterooms: a full beam double bedded Master stateroom with walk-in closet, en-suite toilet and Tv Lcd-Dvd. Forward you find the full beam double VIP stateroom with dressing area and en-suite toilet, Tv Lcd-DVD, 2 twin cabins midships, both with a third upper bed with Tv Lcd-Dvd and en-suite toilet. Guests will find several lounging areas aboard, including the bright, welcoming salon with a separate dining zone for up to 8 guests where relaxing with family and friends. Great Crew led by experienced local Captain Savio Autore!
a:15:{i:2;a:2:{s:3:"url";s:80:"https://www.centralyachtagent.com/yachtadmin/yachtlg/yacht7545/7545brochure2.jpg";s:4:"desc";s:9:"Aft View ";}i:3;a:2:{s:3:"url";s:80:"https://www.centralyachtagent.com/yachtadmin/yachtlg/yacht7545/7545brochure3.jpg";s:4:"desc";s:12:"Aereal View ";}i:4;a:2:{s:3:"url";s:80:"https://www.centralyachtagent.com/yachtadmin/yachtlg/yacht7545/7545brochure4.jpg";s:4:"desc";s:22:"Al Fresco Dining Zone ";}i:5;a:2:{s:3:"url";s:80:"https://www.centralyachtagent.com/yachtadmin/yachtlg/yacht7545/7545brochure5.jpg";s:4:"desc";s:14:"Flying Bridge ";}i:6;a:2:{s:3:"url";s:80:"https://www.centralyachtagent.com/yachtadmin/yachtlg/yacht7545/7545brochure6.jpg";s:4:"desc";s:8:"Cockpit ";}i:7;a:2:{s:3:"url";s:80:"https://www.centralyachtagent.com/yachtadmin/yachtlg/yacht7545/7545brochure7.jpg";s:4:"desc";s:7:"Saloon ";}i:8;a:2:{s:3:"url";s:80:"https://www.centralyachtagent.com/yachtadmin/yachtlg/yacht7545/7545brochure8.jpg";s:4:"desc";s:19:"Formal Dining Zone ";}i:9;a:2:{s:3:"url";s:80:"https://www.centralyachtagent.com/yachtadmin/yachtlg/yacht7545/7545brochure9.jpg";s:4:"desc";s:7:"Galley ";}i:10;a:2:{s:3:"url";s:81:"https://www.centralyachtagent.com/yachtadmin/yachtlg/yacht7545/7545brochure10.jpg";s:4:"desc";s:13:"Master Cabin ";}i:11;a:2:{s:3:"url";s:81:"https://www.centralyachtagent.com/yachtadmin/yachtlg/yacht7545/7545brochure11.jpg";s:4:"desc";s:9:"Bathroom ";}i:12;a:2:{s:3:"url";s:81:"https://www.centralyachtagent.com/yachtadmin/yachtlg/yacht7545/7545brochure12.jpg";s:4:"desc";s:10:"Vip Cabin ";}i:13;a:2:{s:3:"url";s:81:"https://www.centralyachtagent.com/yachtadmin/yachtlg/yacht7545/7545brochure13.jpg";s:4:"desc";s:10:"Twin cabin";}i:14;a:2:{s:3:"url";s:81:"https://www.centralyachtagent.com/yachtadmin/yachtlg/yacht7545/7545brochure14.jpg";s:4:"desc";s:29:"Twin Cabin with pullman beds ";}i:15;a:2:{s:3:"url";s:81:"https://www.centralyachtagent.com/yachtadmin/yachtlg/yacht7545/7545brochure15.jpg";s:4:"desc";s:28:"Chase Seaplane upon request!";}i:16;a:2:{s:3:"url";s:81:"https://www.centralyachtagent.com/yachtadmin/yachtlg/yacht7545/7545brochure16.jpg";s:4:"desc";s:18:"Resilience Layout ";}}
<p style="text-align: center;"><strong><span id="page6R_mcid8" class="markedContent"><span dir="ltr" style="left: 548.773px; top: 92.8232px; font-size: 15.9895px; font-family: sans-serif; transform: scaleX(0.813979);" role="presentation">S T A R T E R S</span></span></strong></p> <p style="text-align: center;"><strong><span id="page6R_mcid9" class="markedContent"></span><span id="page6R_mcid10" class="markedContent"></span></strong><span id="page6R_mcid11" class="markedContent"></span><span id="page6R_mcid11" class="markedContent"><span dir="ltr" style="left: 437.79px; top: 121.901px; font-size: 18.091px; font-family: sans-serif; transform: scaleX(0.954455);" role="presentation"><span style="font-size: 12pt;">Fresh cuttlefish grilled, with black ink risotto</span><br /></span></span><span id="page6R_mcid12" class="markedContent"></span><span id="page6R_mcid13" class="markedContent"></span><span id="page6R_mcid13" class="markedContent"><span dir="ltr" style="left: 471.123px; top: 170.627px; font-size: 16.9111px; font-family: sans-serif; transform: scaleX(0.943203);" role="presentation">Seppie fresche alla griglia, con risotto</span></span><span id="page6R_mcid14" class="markedContent"><br role="presentation" /><span dir="ltr" style="left: 539.515px; top: 194.012px; font-size: 16.9111px; font-family: sans-serif; transform: scaleX(0.978759);" role="presentation">all'inchiostro nero</span></span><span id="page6R_mcid15" class="markedContent"></span><span id="page6R_mcid16" class="markedContent"><br role="presentation" /><span dir="ltr" style="left: 589.639px; top: 240.78px; font-size: 16.9111px; font-family: sans-serif; transform: scaleX(1.41461);" role="presentation">***</span></span><span id="page6R_mcid17" class="markedContent"><br role="presentation" /><span dir="ltr" style="left: 454.282px; top: 264.165px; font-size: 16.9111px; font-family: sans-serif; transform: scaleX(0.937508);" role="presentation">Smoked Salmon Mousse on Pumpernickel</span></span><span id="page6R_mcid18" class="markedContent"><br role="presentation" /><span dir="ltr" style="left: 569.394px; top: 287.549px; font-size: 16.9111px; font-family: sans-serif; transform: scaleX(0.929794);" role="presentation">Triangles</span></span><span id="page6R_mcid19" class="markedContent"></span><span id="page6R_mcid20" class="markedContent"></span><span id="page6R_mcid21" class="markedContent"><br role="presentation" /><span dir="ltr" style="left: 442.889px; top: 334.318px; font-size: 16.9111px; font-family: sans-serif; transform: scaleX(0.967231);" role="presentation">Mousse di salmone affumicata su triangoli di</span></span><span id="page6R_mcid22" class="markedContent"><br role="presentation" /><span dir="ltr" style="left: 581.036px; top: 357.702px; font-size: 16.9111px; font-family: sans-serif; transform: scaleX(0.923201);" role="presentation">zucca</span></span><span id="page6R_mcid23" class="markedContent"></span><span id="page6R_mcid24" class="markedContent"></span><span id="page6R_mcid25" class="markedContent"><br role="presentation" /><span dir="ltr" style="left: 589.539px; top: 404.471px; font-size: 16.9111px; font-family: sans-serif; transform: scaleX(1.4259);" role="presentation">***</span></span><span id="page6R_mcid26" class="markedContent"><br role="presentation" /><span dir="ltr" style="left: 488.678px; top: 427.855px; font-size: 16.9111px; font-family: sans-serif; transform: scaleX(0.884021);" role="presentation">Chef's Select Julienne Vegetables</span></span><span id="page6R_mcid27" class="markedContent"></span><span id="page6R_mcid28" class="markedContent"></span><span id="page6R_mcid29" class="markedContent"><br role="presentation" /><span dir="ltr" style="left: 485.423px; top: 474.624px; font-size: 16.9111px; font-family: sans-serif; transform: scaleX(0.917921);" role="presentation">Selezione di verdure alla Julienne</span></span><span id="page6R_mcid30" class="markedContent"></span><span id="page6R_mcid31" class="markedContent"></span><span id="page6R_mcid32" class="markedContent"></span><span id="page6R_mcid33" class="markedContent"></span><span id="page6R_mcid34" class="markedContent"></span><span id="page6R_mcid35" class="markedContent"></span><span id="page6R_mcid36" class="markedContent"></span><span id="page6R_mcid37" class="markedContent"></span><span id="page6R_mcid38" class="markedContent"></span><span id="page6R_mcid39" class="markedContent"></span><span id="page6R_mcid40" class="markedContent"></span><span id="page6R_mcid41" class="markedContent"></span><span id="page6R_mcid42" class="markedContent"></span><span id="page6R_mcid43" class="markedContent"></span><span id="page6R_mcid44" class="markedContent"></span></p> <p style="text-align: center;"><span id="page6R_mcid44" class="markedContent"><br role="presentation" /><strong><span dir="ltr" style="left: 525.102px; top: 517.109px; font-size: 15.9895px; font-family: sans-serif; transform: scaleX(1.0904);" role="presentation">MAIN</span><span dir="ltr" style="left: 568.682px; top: 517.109px; font-size: 15.9895px; font-family: sans-serif;" role="presentation"> </span><span dir="ltr" style="left: 573.058px; top: 517.109px; font-size: 15.9895px; font-family: sans-serif; transform: scaleX(0.996782);" role="presentation">COURSE</span><span dir="ltr" style="left: 641.255px; top: 517.109px; font-size: 15.9895px; font-family: sans-serif;" role="presentation"> </span><span dir="ltr" style="left: 645.632px; top: 517.109px; font-size: 15.9895px; font-family: sans-serif; transform: scaleX(0.992136);" role="presentation">FISH</span></strong></span></p> <p style="text-align: center;"><span id="page6R_mcid45" class="markedContent"></span><span id="page6R_mcid46" class="markedContent"></span><span id="page6R_mcid46" class="markedContent"><span dir="ltr" style="left: 465.985px; top: 550.889px; font-size: 16.4631px; font-family: sans-serif; transform: scaleX(0.972819);" role="presentation">Tagliolini with tuna, aubergine cream and</span></span><span id="page6R_mcid47" class="markedContent"><br role="presentation" /><span dir="ltr" style="left: 584.241px; top: 572.958px; font-size: 16.4631px; font-family: sans-serif; transform: scaleX(1.02922);" role="presentation">burrata</span></span><span id="page6R_mcid48" class="markedContent"></span><span id="page6R_mcid49" class="markedContent"><br role="presentation" /><span dir="ltr" style="left: 467.675px; top: 617.095px; font-size: 16.4631px; font-family: sans-serif; transform: scaleX(0.964549);" role="presentation">Tagliolini al tonno, crema di melanzane e</span></span><span id="page6R_mcid50" class="markedContent"><br role="presentation" /><span dir="ltr" style="left: 584.241px; top: 639.163px; font-size: 16.4631px; font-family: sans-serif; transform: scaleX(1.02922);" role="presentation">burrata</span></span><span id="page6R_mcid51" class="markedContent"><br role="presentation" /><span dir="ltr" style="left: 597.465px; top: 661.232px; font-size: 16.4631px; font-family: sans-serif; transform: scaleX(1.41593);" role="presentation">***</span></span><span id="page6R_mcid52" class="markedContent"><br role="presentation" /><span dir="ltr" style="left: 444.382px; top: 683.3px; font-size: 16.4631px; font-family: sans-serif; transform: scaleX(0.949021);" role="presentation">Spaghetti with anchovy sauce, walnut pesto and</span></span><span id="page6R_mcid53" class="markedContent"><br role="presentation" /><span dir="ltr" style="left: 548.466px; top: 705.368px; font-size: 16.4631px; font-family: sans-serif; transform: scaleX(0.963808);" role="presentation">fried scabbardfish</span></span><span id="page6R_mcid54" class="markedContent"></span><span id="page6R_mcid55" class="markedContent"><br role="presentation" /><span dir="ltr" style="left: 455.968px; top: 749.505px; font-size: 16.4631px; font-family: sans-serif; transform: scaleX(0.939251);" role="presentation">Spaghetti al sugo di acciughe, pesto di noci e</span></span><span id="page6R_mcid56" class="markedContent"><br role="presentation" /><span dir="ltr" style="left: 549.552px; top: 771.574px; font-size: 16.4631px; font-family: sans-serif; transform: scaleX(0.947298);" role="presentation">pesce spada fritto</span></span><span id="page6R_mcid57" class="markedContent"><br role="presentation" /><span dir="ltr" style="left: 597.465px; top: 793.642px; font-size: 16.4631px; font-family: sans-serif; transform: scaleX(1.41593);" role="presentation">***</span></span><span id="page6R_mcid58" class="markedContent"><br role="presentation" /><span dir="ltr" style="left: 509.277px; top: 815.711px; font-size: 16.4631px; font-family: sans-serif; transform: scaleX(0.955004);" role="presentation">Fettuccine with lemon shrimp</span></span><span id="page6R_mcid59" class="markedContent"></span><span id="page6R_mcid60" class="markedContent"><br role="presentation" /><span dir="ltr" style="left: 487.467px; top: 859.848px; font-size: 16.4631px; font-family: sans-serif; transform: scaleX(0.951528);" role="presentation">Fettuccine con gamberetti al limone</span></span><span id="page6R_mcid61" class="markedContent"><br role="presentation" /></span></p> <p style="text-align: center;">&nbsp;</p> <p style="text-align: center;"><span id="page7R_mcid0" class="markedContent"></span><span id="page7R_mcid1" class="markedContent"></span><span id="page7R_mcid2" class="markedContent"></span><strong><span id="page7R_mcid3" class="markedContent"><span dir="ltr" style="left: 479.016px; top: 19.9186px; font-size: 15.9895px; font-family: sans-serif; transform: scaleX(0.815185);" role="presentation">SECOND&nbsp; COURSE MEAT</span></span></strong></p> <p style="text-align: center;"><span id="page7R_mcid4" class="markedContent"></span><span id="page7R_mcid5" class="markedContent"></span><span id="page7R_mcid6" class="markedContent"></span><span id="page7R_mcid6" class="markedContent"><span dir="ltr" style="left: 423.419px; top: 77.5214px; font-size: 15.9895px; font-family: sans-serif; transform: scaleX(0.953459);" role="presentation">Curried lamb steak on sweet potato</span></span><span id="page7R_mcid7" class="markedContent"></span><span id="page7R_mcid8" class="markedContent"><span dir="ltr" style="left: 662.975px; top: 77.5214px; font-size: 15.9895px; font-family: sans-serif;" role="presentation"> </span><span dir="ltr" style="left: 671.26px; top: 77.5214px; font-size: 15.9895px; font-family: sans-serif; transform: scaleX(1.0028);" role="presentation">with a mint</span></span><span id="page7R_mcid9" class="markedContent"><br role="presentation" /><span dir="ltr" style="left: 552.46px; top: 99.3352px; font-size: 15.9895px; font-family: sans-serif; transform: scaleX(0.922119);" role="presentation">cous cous</span></span><span id="page7R_mcid10" class="markedContent"></span><span id="page7R_mcid11" class="markedContent"><br role="presentation" /><span dir="ltr" style="left: 429.537px; top: 142.963px; font-size: 15.9895px; font-family: sans-serif; transform: scaleX(0.952948);" role="presentation">Bistecca di agnello al curry su patate dolci con</span></span><span id="page7R_mcid12" class="markedContent"><br role="presentation" /><span dir="ltr" style="left: 514.014px; top: 164.776px; font-size: 15.9895px; font-family: sans-serif; transform: scaleX(0.954398);" role="presentation">cous cous alla menta</span></span><span id="page7R_mcid13" class="markedContent"><br role="presentation" /><span dir="ltr" style="left: 572.297px; top: 186.59px; font-size: 15.9895px; font-family: sans-serif; transform: scaleX(1.42769);" role="presentation">***</span></span><span id="page7R_mcid14" class="markedContent"><br role="presentation" /><span dir="ltr" style="left: 463.927px; top: 208.404px; font-size: 15.9895px; font-family: sans-serif; transform: scaleX(0.958508);" role="presentation">Beef Tartare with caramelized onion</span></span><span id="page7R_mcid15" class="markedContent"></span><span id="page7R_mcid16" class="markedContent"><br role="presentation" /><span dir="ltr" style="left: 445.539px; top: 252.031px; font-size: 15.9895px; font-family: sans-serif; transform: scaleX(0.980094);" role="presentation">Tartare di manzo con cipolla caramellata</span></span><span id="page7R_mcid17" class="markedContent"></span><span id="page7R_mcid18" class="markedContent"><br role="presentation" /><span dir="ltr" style="left: 572.297px; top: 295.659px; font-size: 15.9895px; font-family: sans-serif; transform: scaleX(1.42769);" role="presentation">***</span></span><span id="page7R_mcid19" class="markedContent"><br role="presentation" /><span dir="ltr" style="left: 438.842px; top: 317.472px; font-size: 15.9895px; font-family: sans-serif; transform: scaleX(0.955655);" role="presentation">Braciole di maiale con fichi e uva agrodolce</span></span><span id="page7R_mcid20" class="markedContent"><br role="presentation" /><span dir="ltr" style="left: 445.283px; top: 339.286px; font-size: 15.9895px; font-family: sans-serif; transform: scaleX(0.937979);" role="presentation">Pork Chops with Fig and Grape Agrodolce</span></span><span id="page7R_mcid21" class="markedContent"></span></p> <p style="text-align: center;"><span id="page7R_mcid21" class="markedContent"><br role="presentation" /><strong><span dir="ltr" style="left: 534.426px; top: 438.15px; font-size: 18.9016px; font-family: sans-serif; transform: scaleX(0.84956);" role="presentation">DESSERTS</span></strong></span></p> <p style="text-align: center;"><strong><span id="page7R_mcid22" class="markedContent"></span></strong><span id="page7R_mcid23" class="markedContent"></span><span id="page7R_mcid23" class="markedContent"><span dir="ltr" style="left: 413.65px; top: 503.333px; font-size: 16.8947px; font-family: sans-serif; transform: scaleX(0.950952);" role="presentation">Glazed lemon tart served with a raspberry coulis</span></span><span id="page7R_mcid24" class="markedContent"></span><span id="page7R_mcid25" class="markedContent"><br role="presentation" /><span dir="ltr" style="left: 413.361px; top: 549.142px; font-size: 16.8947px; font-family: sans-serif; transform: scaleX(0.952525);" role="presentation">Crostata al limone glassata servita con un coulis</span></span><span id="page7R_mcid26" class="markedContent"><br role="presentation" /><span dir="ltr" style="left: 542.846px; top: 572.047px; font-size: 16.8947px; font-family: sans-serif; transform: scaleX(0.981721);" role="presentation">al lampone</span></span><span id="page7R_mcid27" class="markedContent"></span><span id="page7R_mcid28" class="markedContent"><br role="presentation" /><span dir="ltr" style="left: 571.664px; top: 594.951px; font-size: 16.8947px; font-family: sans-serif; transform: scaleX(1.41312);" role="presentation">***</span></span><span id="page7R_mcid29" class="markedContent"><br role="presentation" /><span dir="ltr" style="left: 415.815px; top: 617.855px; font-size: 16.8947px; font-family: sans-serif; transform: scaleX(0.971785);" role="presentation">Caramelised flamed apple tart tatin with vanilla</span></span><span id="page7R_mcid30" class="markedContent"><br role="presentation" /><span dir="ltr" style="left: 551.111px; top: 640.76px; font-size: 16.8947px; font-family: sans-serif; transform: scaleX(0.93029);" role="presentation">ice-cream</span></span><span id="page7R_mcid31" class="markedContent"></span><span id="page7R_mcid32" class="markedContent"><br role="presentation" /><span dir="ltr" style="left: 421.66px; top: 686.569px; font-size: 16.8947px; font-family: sans-serif; transform: scaleX(0.954556);" role="presentation">Crostata di mele affumicate e caramellate con</span></span><span id="page7R_mcid33" class="markedContent"><br role="presentation" /><span dir="ltr" style="left: 518.152px; top: 709.473px; font-size: 16.8947px; font-family: sans-serif; transform: scaleX(0.970554);" role="presentation">gelato alla vaniglia</span></span><span id="page7R_mcid34" class="markedContent"></span><span id="page7R_mcid35" class="markedContent"><br role="presentation" /><span dir="ltr" style="left: 571.664px; top: 755.282px; font-size: 16.8947px; font-family: sans-serif; transform: scaleX(1.41312);" role="presentation">***</span></span><span id="page7R_mcid36" class="markedContent"><br role="presentation" /><span dir="ltr" style="left: 461.095px; top: 778.186px; font-size: 16.8947px; font-family: sans-serif; transform: scaleX(0.941269);" role="presentation">Chocolate Souffl&egrave; with strawberries</span></span><span id="page7R_mcid37" class="markedContent"></span><span id="page7R_mcid38" class="markedContent"><br role="presentation" /><span dir="ltr" style="left: 472.241px; top: 823.995px; font-size: 16.8947px; font-family: sans-serif; transform: scaleX(0.951449);" role="presentation">Souffl&egrave; al cioccolato con frago</span></span></p>
https://www.youtube.com/embed/x19cq_ATZ6I
http://www.cyabrochure.com/ebn/2395/pdhaX/7545/1
http://www.cyabrochure.com/ebn/2395/pdhaX/7545/3
a:24:{s:4:"tube";s:1:"0";s:6:"guests";s:2:"10";s:8:"maxspeed";s:3:"30 ";s:11:"pref_pickup";N;s:12:"other_pickup";N;s:5:"draft";s:4:"1.80";s:14:"cruising_speed";s:2:"23";s:7:"helipad";s:2:"No";s:2:"ac";s:4:"Full";s:8:"ac_night";s:2:"No";s:5:"built";s:4:"2006";s:10:"turnaround";s:0:"";s:6:"cabins";s:1:"4";s:4:"king";s:1:"0";s:5:"queen";s:1:"2";s:6:"double";s:1:"2";s:6:"single";s:1:"0";s:4:"twin";s:1:"2";s:7:"pullman";s:1:"2";s:7:"showers";s:1:"0";s:6:"basins";s:1:"0";s:5:"heads";s:1:"0";s:14:"electric_heads";s:1:"0";s:7:"jacuzzi";s:2:"No";}
a:7:{s:4:"flag";s:8:"Italian ";s:8:"homeport";s:17:"Ischia /Flexible ";s:13:"resort_course";s:0:"";s:12:"yacht_permit";s:1:"2";s:13:"yacht_license";s:1:"2";s:9:"yacht_mca";s:1:"0";s:15:"yacht_insurance";s:0:"";}
a:22:{s:11:"dinghy_size";s:16:"Tender 4.85 mt. ";s:12:"kayaks_1_pax";s:1:"0";s:12:"kayaks_2_pax";s:1:"0";s:9:"dinghy_hp";s:0:"";s:13:"floating_mats";s:1:"0";s:10:"dinghy_pax";s:0:"";s:13:"swim_platform";s:30:"Brand New Hydraulic Swim Platf";s:16:"water_skis_adult";s:3:"Yes";s:15:"boarding_ladder";s:0:"";s:15:"water_skis_kids";s:1:"0";s:14:"sailing_dinghy";s:0:"";s:8:"jet_skis";s:1:"0";s:11:"beach_games";s:1:"0";s:12:"wave_runners";s:1:"0";s:9:"kneeboard";s:1:"0";s:10:"windsurfer";s:1:"0";s:12:"snorkel_gear";s:3:"Yes";s:17:"underwater_camera";s:1:"0";s:7:"scurfer";s:1:"0";s:16:"underwater_video";s:1:"0";s:10:"wake_board";s:3:"Yes";s:11:"paddleboard";s:3:"Yes";}
0
2
0
2
2
2
2022
0
0
Greece
500
23
30


";s:14:"yachtHighPrice";s:13:"€32,000";s:13:"yachtLowPrice";s:13:"€25,000";s:21:"yachtHighNumericPrice";s:5:"32000";s:20:"yachtLowNumericPrice";s:5:"25000";s:19:"yachtCurrencySymbol";s:7:"€";s:13:"yachtCurrency";s:3:"EUR";s:17:"yachtPriceDetails";s:111:"Please note, Rates 2022: € 32.000 July/August € 27.000 June/September € 25.000 other months";s:14:"yachtTermsType";s:13:"Plus Expenses";s:17:"yachtTermsTypeNum";s:1:"2";s:11:"yachtVcrDvd";s:3:"Yes";s:16:"yachtSalonStereo";s:1:"0";s:11:"yachtNumDvd";s:0:"";s:11:"yachtNumCds";s:0:"";s:15:"yachtBoardGames";s:1:"0";s:13:"yachtNumBooks";s:0:"";s:14:"yachtCamCorder";s:1:"0";s:14:"yachtNumDineIn";s:0:"";s:14:"yachtSunAwning";s:1:"0";s:12:"yachtHammock";s:0:"";s:15:"yachtWindScoops";s:0:"";s:15:"yachtDeckShower";s:1:"0";s:11:"yachtBimini";s:1:"0";s:17:"yachtSpecialDiets";s:3:"Inq";s:11:"yachtKosher";s:3:"Inq";s:8:"yachtBBQ";s:1:"0";s:16:"yachtGayCharters";s:3:"Inq";s:17:"yachtNudeCharters";s:3:"Inq";s:14:"yachtHairDryer";s:1:"0";s:13:"yachtNumHatch";s:0:"";s:15:"yachtGuestSmoke";s:0:"";s:13:"yachtGuestPet";s:1:"0";s:20:"yachtChildrenAllowed";s:1:"0";s:16:"yachtMinChildAge";s:0:"";s:14:"yachtGenerator";s:0:"";s:12:"yachtEngines";s:22:"CAT 2 X 1670 HP DIESEL";s:9:"yachtFuel";s:3:"500";s:13:"yachtInverter";s:0:"";s:13:"yachtVoltages";s:0:"";s:15:"yachtWaterMaker";s:0:"";s:18:"yachtWaterCapacity";s:0:"";s:13:"yachtIceMaker";s:1:"0";s:11:"yachtDinghy";s:16:"Tender 4.85 mt. ";s:13:"yachtDinghyHp";s:0:"";s:14:"yachtDinghyPax";s:0:"";s:15:"yachtAdultWSkis";s:3:"Yes";s:13:"yachtKidsSkis";s:1:"0";s:12:"yachtJetSkis";s:1:"0";s:12:"yachtWaveRun";s:1:"0";s:14:"yachtKneeBoard";s:1:"0";s:18:"yachtStandUpPaddle";s:3:"Yes";s:13:"yachtWindSurf";s:1:"0";s:16:"yachtGearSnorkel";s:3:"Yes";s:9:"yachtTube";s:1:"0";s:12:"yachtScurfer";s:1:"0";s:14:"yachtWakeBoard";s:3:"Yes";s:14:"yacht1ManKayak";s:1:"0";s:14:"yacht2ManKayak";s:1:"0";s:11:"yachtSeaBob";s:2:"No";s:15:"yachtSeaScooter";s:2:"No";s:17:"yachtKiteBoarding";s:0:"";s:24:"yachtKiteBoardingDetails";s:0:"";s:15:"yachtFishPermit";s:0:"";s:14:"yachtFloatMats";s:1:"0";s:17:"yachtSwimPlatform";s:30:"Brand New Hydraulic Swim Platf";s:19:"yachtBoardingLadder";s:0:"";s:18:"yachtDinghySailing";s:0:"";s:15:"yachtGamesBeach";s:1:"0";s:16:"yachtFishingGear";s:1:"0";s:17:"yachtFishGearType";s:0:"";s:16:"yachtNumFishRods";s:0:"";s:18:"yachtUnderWaterCam";s:1:"0";s:20:"yachtUnderWaterVideo";s:1:"0";s:19:"yachtGreenMakeWater";s:0:"";s:21:"yachtGreenReuseBottle";s:0:"";s:15:"yachtGreenOther";s:0:"";s:17:"yachtScubaOnboard";s:35:"Yacht offers Rendezvous Diving only";s:17:"yachtResortCourse";s:0:"";s:15:"yachtFullCourse";s:0:"";s:16:"yachtLicenseInfo";s:1:"-";s:15:"yachtCompressor";s:11:"Not Onboard";s:17:"yachtNumDiveTanks";s:1:"0";s:11:"yachtNumBCS";s:1:"0";s:12:"yachtNumRegs";s:1:"0";s:16:"yachtNumWetSuits";s:1:"0";s:15:"yachtNumWeights";s:1:"0";s:14:"yachtNumDivers";s:1:"0";s:13:"yachtNumDives";s:0:"";s:18:"yachtNumNightDives";s:1:"0";s:18:"yachtNumDiveLights";s:1:"0";s:13:"yachtDiveInfo";s:0:"";s:14:"yachtDiveCosts";s:0:"";s:9:"yachtPic1";s:80:"https://www.centralyachtagent.com/yachtadmin/yachtlg/yacht7545/7545brochure1.jpg";s:10:"yachtDesc1";s:925:"Resilience is an elegant and refined Alalunga 78 launched in 2006 and fully refitted in 2014, further extra refit underwent from 2016 to 2018 and is currently going through a major refit by the new Owner ( Winter 2021/2022). She features welcoming and refined interiors, finely appointed. The lower deck includes the night layout and offers accommodation for up to 10 guests in 4 luxurious staterooms: a full beam double bedded Master stateroom with walk-in closet, en-suite toilet and Tv Lcd-Dvd. Forward you find the full beam double VIP stateroom with dressing area and en-suite toilet, Tv Lcd-DVD, 2 twin cabins midships, both with a third upper bed with Tv Lcd-Dvd and en-suite toilet. Guests will find several lounging areas aboard, including the bright, welcoming salon with a separate dining zone for up to 8 guests where relaxing with family and friends. Great Crew led by experienced local Captain Savio Autore!";s:9:"yachtPic2";s:80:"https://www.centralyachtagent.com/yachtadmin/yachtlg/yacht7545/7545brochure2.jpg";s:10:"yachtDesc2";s:9:"Aft View ";s:9:"yachtPic3";s:80:"https://www.centralyachtagent.com/yachtadmin/yachtlg/yacht7545/7545brochure3.jpg";s:10:"yachtDesc3";s:12:"Aereal View ";s:9:"yachtPic4";s:80:"https://www.centralyachtagent.com/yachtadmin/yachtlg/yacht7545/7545brochure4.jpg";s:10:"yachtDesc4";s:22:"Al Fresco Dining Zone ";s:9:"yachtPic5";s:80:"https://www.centralyachtagent.com/yachtadmin/yachtlg/yacht7545/7545brochure5.jpg";s:10:"yachtDesc5";s:14:"Flying Bridge ";s:9:"yachtPic6";s:80:"https://www.centralyachtagent.com/yachtadmin/yachtlg/yacht7545/7545brochure6.jpg";s:10:"yachtDesc6";s:8:"Cockpit ";s:9:"yachtPic7";s:80:"https://www.centralyachtagent.com/yachtadmin/yachtlg/yacht7545/7545brochure7.jpg";s:10:"yachtDesc7";s:7:"Saloon ";s:9:"yachtPic8";s:80:"https://www.centralyachtagent.com/yachtadmin/yachtlg/yacht7545/7545brochure8.jpg";s:10:"yachtDesc8";s:19:"Formal Dining Zone ";s:9:"yachtPic9";s:80:"https://www.centralyachtagent.com/yachtadmin/yachtlg/yacht7545/7545brochure9.jpg";s:10:"yachtDesc9";s:7:"Galley ";s:10:"yachtPic10";s:81:"https://www.centralyachtagent.com/yachtadmin/yachtlg/yacht7545/7545brochure10.jpg";s:11:"yachtDesc10";s:13:"Master Cabin ";s:10:"yachtPic11";s:81:"https://www.centralyachtagent.com/yachtadmin/yachtlg/yacht7545/7545brochure11.jpg";s:11:"yachtDesc11";s:9:"Bathroom ";s:10:"yachtPic12";s:81:"https://www.centralyachtagent.com/yachtadmin/yachtlg/yacht7545/7545brochure12.jpg";s:11:"yachtDesc12";s:10:"Vip Cabin ";s:10:"yachtPic13";s:81:"https://www.centralyachtagent.com/yachtadmin/yachtlg/yacht7545/7545brochure13.jpg";s:11:"yachtDesc13";s:10:"Twin cabin";s:10:"yachtPic14";s:81:"https://www.centralyachtagent.com/yachtadmin/yachtlg/yacht7545/7545brochure14.jpg";s:11:"yachtDesc14";s:29:"Twin Cabin with pullman beds ";s:10:"yachtPic15";s:81:"https://www.centralyachtagent.com/yachtadmin/yachtlg/yacht7545/7545brochure15.jpg";s:11:"yachtDesc15";s:28:"Chase Seaplane upon request!";s:10:"yachtPic16";s:81:"https://www.centralyachtagent.com/yachtadmin/yachtlg/yacht7545/7545brochure16.jpg";s:11:"yachtDesc16";s:18:"Resilience Layout ";s:10:"yachtPic17";s:0:"";s:11:"yachtDesc17";s:0:"";s:10:"yachtPic18";s:0:"";s:11:"yachtDesc18";s:0:"";s:10:"yachtPic19";s:0:"";s:11:"yachtDesc19";s:0:"";s:11:"yachtLayout";s:81:"https://www.centralyachtagent.com/yachtadmin/yachtlg/yacht7545/7545brochure88.jpg";s:18:"yachtFullEbrochure";s:48:"http://www.cyabrochure.com/ebn/2395/pdhaX/7545/3";s:14:"yachtFullRates";s:48:"http://www.cyabrochure.com/ebn/2395/pdhaX/7545/4";s:14:"yachtOtherToys";s:74:"Chase Seaplane available upon request and subject to availability!
";s:19:"yachtOtherEntertain";s:0:"";s:16:"yachtCommunicate";s:0:"";s:15:"yachtSummerArea";s:49:"W. Med -Naples/Sicily, W. Med -Riviera/Cors/Sard.";s:15:"yachtWinterArea";s:49:"W. Med -Naples/Sicily, W. Med -Riviera/Cors/Sard.";s:12:"yachtShowers";s:1:"0";s:15:"yachtWashBasins";s:1:"0";s:10:"yachtHeads";s:1:"0";s:18:"yachtElectricHeads";s:1:"0";s:14:"yachtTpInHeads";s:0:"";s:15:"yachtSampleMenu";s:19032:"<p style="text-align: center;"><strong><span id="page6R_mcid8" class="markedContent"><span dir="ltr" style="left: 548.773px; top: 92.8232px; font-size: 15.9895px; font-family: sans-serif; transform: scaleX(0.813979);" role="presentation">S T A R T E R S</span></span></strong></p> <p style="text-align: center;"><strong><span id="page6R_mcid9" class="markedContent"></span><span id="page6R_mcid10" class="markedContent"></span></strong><span id="page6R_mcid11" class="markedContent"></span><span id="page6R_mcid11" class="markedContent"><span dir="ltr" style="left: 437.79px; top: 121.901px; font-size: 18.091px; font-family: sans-serif; transform: scaleX(0.954455);" role="presentation"><span style="font-size: 12pt;">Fresh cuttlefish grilled, with black ink risotto</span><br /></span></span><span id="page6R_mcid12" class="markedContent"></span><span id="page6R_mcid13" class="markedContent"></span><span id="page6R_mcid13" class="markedContent"><span dir="ltr" style="left: 471.123px; top: 170.627px; font-size: 16.9111px; font-family: sans-serif; transform: scaleX(0.943203);" role="presentation">Seppie fresche alla griglia, con risotto</span></span><span id="page6R_mcid14" class="markedContent"><br role="presentation" /><span dir="ltr" style="left: 539.515px; top: 194.012px; font-size: 16.9111px; font-family: sans-serif; transform: scaleX(0.978759);" role="presentation">all'inchiostro nero</span></span><span id="page6R_mcid15" class="markedContent"></span><span id="page6R_mcid16" class="markedContent"><br role="presentation" /><span dir="ltr" style="left: 589.639px; top: 240.78px; font-size: 16.9111px; font-family: sans-serif; transform: scaleX(1.41461);" role="presentation">***</span></span><span id="page6R_mcid17" class="markedContent"><br role="presentation" /><span dir="ltr" style="left: 454.282px; top: 264.165px; font-size: 16.9111px; font-family: sans-serif; transform: scaleX(0.937508);" role="presentation">Smoked Salmon Mousse on Pumpernickel</span></span><span id="page6R_mcid18" class="markedContent"><br role="presentation" /><span dir="ltr" style="left: 569.394px; top: 287.549px; font-size: 16.9111px; font-family: sans-serif; transform: scaleX(0.929794);" role="presentation">Triangles</span></span><span id="page6R_mcid19" class="markedContent"></span><span id="page6R_mcid20" class="markedContent"></span><span id="page6R_mcid21" class="markedContent"><br role="presentation" /><span dir="ltr" style="left: 442.889px; top: 334.318px; font-size: 16.9111px; font-family: sans-serif; transform: scaleX(0.967231);" role="presentation">Mousse di salmone affumicata su triangoli di</span></span><span id="page6R_mcid22" class="markedContent"><br role="presentation" /><span dir="ltr" style="left: 581.036px; top: 357.702px; font-size: 16.9111px; font-family: sans-serif; transform: scaleX(0.923201);" role="presentation">zucca</span></span><span id="page6R_mcid23" class="markedContent"></span><span id="page6R_mcid24" class="markedContent"></span><span id="page6R_mcid25" class="markedContent"><br role="presentation" /><span dir="ltr" style="left: 589.539px; top: 404.471px; font-size: 16.9111px; font-family: sans-serif; transform: scaleX(1.4259);" role="presentation">***</span></span><span id="page6R_mcid26" class="markedContent"><br role="presentation" /><span dir="ltr" style="left: 488.678px; top: 427.855px; font-size: 16.9111px; font-family: sans-serif; transform: scaleX(0.884021);" role="presentation">Chef's Select Julienne Vegetables</span></span><span id="page6R_mcid27" class="markedContent"></span><span id="page6R_mcid28" class="markedContent"></span><span id="page6R_mcid29" class="markedContent"><br role="presentation" /><span dir="ltr" style="left: 485.423px; top: 474.624px; font-size: 16.9111px; font-family: sans-serif; transform: scaleX(0.917921);" role="presentation">Selezione di verdure alla Julienne</span></span><span id="page6R_mcid30" class="markedContent"></span><span id="page6R_mcid31" class="markedContent"></span><span id="page6R_mcid32" class="markedContent"></span><span id="page6R_mcid33" class="markedContent"></span><span id="page6R_mcid34" class="markedContent"></span><span id="page6R_mcid35" class="markedContent"></span><span id="page6R_mcid36" class="markedContent"></span><span id="page6R_mcid37" class="markedContent"></span><span id="page6R_mcid38" class="markedContent"></span><span id="page6R_mcid39" class="markedContent"></span><span id="page6R_mcid40" class="markedContent"></span><span id="page6R_mcid41" class="markedContent"></span><span id="page6R_mcid42" class="markedContent"></span><span id="page6R_mcid43" class="markedContent"></span><span id="page6R_mcid44" class="markedContent"></span></p> <p style="text-align: center;"><span id="page6R_mcid44" class="markedContent"><br role="presentation" /><strong><span dir="ltr" style="left: 525.102px; top: 517.109px; font-size: 15.9895px; font-family: sans-serif; transform: scaleX(1.0904);" role="presentation">MAIN</span><span dir="ltr" style="left: 568.682px; top: 517.109px; font-size: 15.9895px; font-family: sans-serif;" role="presentation"> </span><span dir="ltr" style="left: 573.058px; top: 517.109px; font-size: 15.9895px; font-family: sans-serif; transform: scaleX(0.996782);" role="presentation">COURSE</span><span dir="ltr" style="left: 641.255px; top: 517.109px; font-size: 15.9895px; font-family: sans-serif;" role="presentation"> </span><span dir="ltr" style="left: 645.632px; top: 517.109px; font-size: 15.9895px; font-family: sans-serif; transform: scaleX(0.992136);" role="presentation">FISH</span></strong></span></p> <p style="text-align: center;"><span id="page6R_mcid45" class="markedContent"></span><span id="page6R_mcid46" class="markedContent"></span><span id="page6R_mcid46" class="markedContent"><span dir="ltr" style="left: 465.985px; top: 550.889px; font-size: 16.4631px; font-family: sans-serif; transform: scaleX(0.972819);" role="presentation">Tagliolini with tuna, aubergine cream and</span></span><span id="page6R_mcid47" class="markedContent"><br role="presentation" /><span dir="ltr" style="left: 584.241px; top: 572.958px; font-size: 16.4631px; font-family: sans-serif; transform: scaleX(1.02922);" role="presentation">burrata</span></span><span id="page6R_mcid48" class="markedContent"></span><span id="page6R_mcid49" class="markedContent"><br role="presentation" /><span dir="ltr" style="left: 467.675px; top: 617.095px; font-size: 16.4631px; font-family: sans-serif; transform: scaleX(0.964549);" role="presentation">Tagliolini al tonno, crema di melanzane e</span></span><span id="page6R_mcid50" class="markedContent"><br role="presentation" /><span dir="ltr" style="left: 584.241px; top: 639.163px; font-size: 16.4631px; font-family: sans-serif; transform: scaleX(1.02922);" role="presentation">burrata</span></span><span id="page6R_mcid51" class="markedContent"><br role="presentation" /><span dir="ltr" style="left: 597.465px; top: 661.232px; font-size: 16.4631px; font-family: sans-serif; transform: scaleX(1.41593);" role="presentation">***</span></span><span id="page6R_mcid52" class="markedContent"><br role="presentation" /><span dir="ltr" style="left: 444.382px; top: 683.3px; font-size: 16.4631px; font-family: sans-serif; transform: scaleX(0.949021);" role="presentation">Spaghetti with anchovy sauce, walnut pesto and</span></span><span id="page6R_mcid53" class="markedContent"><br role="presentation" /><span dir="ltr" style="left: 548.466px; top: 705.368px; font-size: 16.4631px; font-family: sans-serif; transform: scaleX(0.963808);" role="presentation">fried scabbardfish</span></span><span id="page6R_mcid54" class="markedContent"></span><span id="page6R_mcid55" class="markedContent"><br role="presentation" /><span dir="ltr" style="left: 455.968px; top: 749.505px; font-size: 16.4631px; font-family: sans-serif; transform: scaleX(0.939251);" role="presentation">Spaghetti al sugo di acciughe, pesto di noci e</span></span><span id="page6R_mcid56" class="markedContent"><br role="presentation" /><span dir="ltr" style="left: 549.552px; top: 771.574px; font-size: 16.4631px; font-family: sans-serif; transform: scaleX(0.947298);" role="presentation">pesce spada fritto</span></span><span id="page6R_mcid57" class="markedContent"><br role="presentation" /><span dir="ltr" style="left: 597.465px; top: 793.642px; font-size: 16.4631px; font-family: sans-serif; transform: scaleX(1.41593);" role="presentation">***</span></span><span id="page6R_mcid58" class="markedContent"><br role="presentation" /><span dir="ltr" style="left: 509.277px; top: 815.711px; font-size: 16.4631px; font-family: sans-serif; transform: scaleX(0.955004);" role="presentation">Fettuccine with lemon shrimp</span></span><span id="page6R_mcid59" class="markedContent"></span><span id="page6R_mcid60" class="markedContent"><br role="presentation" /><span dir="ltr" style="left: 487.467px; top: 859.848px; font-size: 16.4631px; font-family: sans-serif; transform: scaleX(0.951528);" role="presentation">Fettuccine con gamberetti al limone</span></span><span id="page6R_mcid61" class="markedContent"><br role="presentation" /></span></p> <p style="text-align: center;">&nbsp;</p> <p style="text-align: center;"><span id="page7R_mcid0" class="markedContent"></span><span id="page7R_mcid1" class="markedContent"></span><span id="page7R_mcid2" class="markedContent"></span><strong><span id="page7R_mcid3" class="markedContent"><span dir="ltr" style="left: 479.016px; top: 19.9186px; font-size: 15.9895px; font-family: sans-serif; transform: scaleX(0.815185);" role="presentation">SECOND&nbsp; COURSE MEAT</span></span></strong></p> <p style="text-align: center;"><span id="page7R_mcid4" class="markedContent"></span><span id="page7R_mcid5" class="markedContent"></span><span id="page7R_mcid6" class="markedContent"></span><span id="page7R_mcid6" class="markedContent"><span dir="ltr" style="left: 423.419px; top: 77.5214px; font-size: 15.9895px; font-family: sans-serif; transform: scaleX(0.953459);" role="presentation">Curried lamb steak on sweet potato</span></span><span id="page7R_mcid7" class="markedContent"></span><span id="page7R_mcid8" class="markedContent"><span dir="ltr" style="left: 662.975px; top: 77.5214px; font-size: 15.9895px; font-family: sans-serif;" role="presentation"> </span><span dir="ltr" style="left: 671.26px; top: 77.5214px; font-size: 15.9895px; font-family: sans-serif; transform: scaleX(1.0028);" role="presentation">with a mint</span></span><span id="page7R_mcid9" class="markedContent"><br role="presentation" /><span dir="ltr" style="left: 552.46px; top: 99.3352px; font-size: 15.9895px; font-family: sans-serif; transform: scaleX(0.922119);" role="presentation">cous cous</span></span><span id="page7R_mcid10" class="markedContent"></span><span id="page7R_mcid11" class="markedContent"><br role="presentation" /><span dir="ltr" style="left: 429.537px; top: 142.963px; font-size: 15.9895px; font-family: sans-serif; transform: scaleX(0.952948);" role="presentation">Bistecca di agnello al curry su patate dolci con</span></span><span id="page7R_mcid12" class="markedContent"><br role="presentation" /><span dir="ltr" style="left: 514.014px; top: 164.776px; font-size: 15.9895px; font-family: sans-serif; transform: scaleX(0.954398);" role="presentation">cous cous alla menta</span></span><span id="page7R_mcid13" class="markedContent"><br role="presentation" /><span dir="ltr" style="left: 572.297px; top: 186.59px; font-size: 15.9895px; font-family: sans-serif; transform: scaleX(1.42769);" role="presentation">***</span></span><span id="page7R_mcid14" class="markedContent"><br role="presentation" /><span dir="ltr" style="left: 463.927px; top: 208.404px; font-size: 15.9895px; font-family: sans-serif; transform: scaleX(0.958508);" role="presentation">Beef Tartare with caramelized onion</span></span><span id="page7R_mcid15" class="markedContent"></span><span id="page7R_mcid16" class="markedContent"><br role="presentation" /><span dir="ltr" style="left: 445.539px; top: 252.031px; font-size: 15.9895px; font-family: sans-serif; transform: scaleX(0.980094);" role="presentation">Tartare di manzo con cipolla caramellata</span></span><span id="page7R_mcid17" class="markedContent"></span><span id="page7R_mcid18" class="markedContent"><br role="presentation" /><span dir="ltr" style="left: 572.297px; top: 295.659px; font-size: 15.9895px; font-family: sans-serif; transform: scaleX(1.42769);" role="presentation">***</span></span><span id="page7R_mcid19" class="markedContent"><br role="presentation" /><span dir="ltr" style="left: 438.842px; top: 317.472px; font-size: 15.9895px; font-family: sans-serif; transform: scaleX(0.955655);" role="presentation">Braciole di maiale con fichi e uva agrodolce</span></span><span id="page7R_mcid20" class="markedContent"><br role="presentation" /><span dir="ltr" style="left: 445.283px; top: 339.286px; font-size: 15.9895px; font-family: sans-serif; transform: scaleX(0.937979);" role="presentation">Pork Chops with Fig and Grape Agrodolce</span></span><span id="page7R_mcid21" class="markedContent"></span></p> <p style="text-align: center;"><span id="page7R_mcid21" class="markedContent"><br role="presentation" /><strong><span dir="ltr" style="left: 534.426px; top: 438.15px; font-size: 18.9016px; font-family: sans-serif; transform: scaleX(0.84956);" role="presentation">DESSERTS</span></strong></span></p> <p style="text-align: center;"><strong><span id="page7R_mcid22" class="markedContent"></span></strong><span id="page7R_mcid23" class="markedContent"></span><span id="page7R_mcid23" class="markedContent"><span dir="ltr" style="left: 413.65px; top: 503.333px; font-size: 16.8947px; font-family: sans-serif; transform: scaleX(0.950952);" role="presentation">Glazed lemon tart served with a raspberry coulis</span></span><span id="page7R_mcid24" class="markedContent"></span><span id="page7R_mcid25" class="markedContent"><br role="presentation" /><span dir="ltr" style="left: 413.361px; top: 549.142px; font-size: 16.8947px; font-family: sans-serif; transform: scaleX(0.952525);" role="presentation">Crostata al limone glassata servita con un coulis</span></span><span id="page7R_mcid26" class="markedContent"><br role="presentation" /><span dir="ltr" style="left: 542.846px; top: 572.047px; font-size: 16.8947px; font-family: sans-serif; transform: scaleX(0.981721);" role="presentation">al lampone</span></span><span id="page7R_mcid27" class="markedContent"></span><span id="page7R_mcid28" class="markedContent"><br role="presentation" /><span dir="ltr" style="left: 571.664px; top: 594.951px; font-size: 16.8947px; font-family: sans-serif; transform: scaleX(1.41312);" role="presentation">***</span></span><span id="page7R_mcid29" class="markedContent"><br role="presentation" /><span dir="ltr" style="left: 415.815px; top: 617.855px; font-size: 16.8947px; font-family: sans-serif; transform: scaleX(0.971785);" role="presentation">Caramelised flamed apple tart tatin with vanilla</span></span><span id="page7R_mcid30" class="markedContent"><br role="presentation" /><span dir="ltr" style="left: 551.111px; top: 640.76px; font-size: 16.8947px; font-family: sans-serif; transform: scaleX(0.93029);" role="presentation">ice-cream</span></span><span id="page7R_mcid31" class="markedContent"></span><span id="page7R_mcid32" class="markedContent"><br role="presentation" /><span dir="ltr" style="left: 421.66px; top: 686.569px; font-size: 16.8947px; font-family: sans-serif; transform: scaleX(0.954556);" role="presentation">Crostata di mele affumicate e caramellate con</span></span><span id="page7R_mcid33" class="markedContent"><br role="presentation" /><span dir="ltr" style="left: 518.152px; top: 709.473px; font-size: 16.8947px; font-family: sans-serif; transform: scaleX(0.970554);" role="presentation">gelato alla vaniglia</span></span><span id="page7R_mcid34" class="markedContent"></span><span id="page7R_mcid35" class="markedContent"><br role="presentation" /><span dir="ltr" style="left: 571.664px; top: 755.282px; font-size: 16.8947px; font-family: sans-serif; transform: scaleX(1.41312);" role="presentation">***</span></span><span id="page7R_mcid36" class="markedContent"><br role="presentation" /><span dir="ltr" style="left: 461.095px; top: 778.186px; font-size: 16.8947px; font-family: sans-serif; transform: scaleX(0.941269);" role="presentation">Chocolate Souffl&egrave; with strawberries</span></span><span id="page7R_mcid37" class="markedContent"></span><span id="page7R_mcid38" class="markedContent"><br role="presentation" /><span dir="ltr" style="left: 472.241px; top: 823.995px; font-size: 16.8947px; font-family: sans-serif; transform: scaleX(0.951449);" role="presentation">Souffl&egrave; al cioccolato con frago</span></span></p>";s:13:"yachtMenu1Pic";s:0:"";s:13:"yachtMenu2Pic";s:0:"";s:13:"yachtMenu3Pic";s:0:"";s:13:"yachtMenu4Pic";s:0:"";s:13:"yachtMenu5Pic";s:0:"";s:13:"yachtMenu6Pic";s:0:"";s:13:"yachtMenu7Pic";s:0:"";s:13:"yachtMenu8Pic";s:0:"";s:13:"yachtMenu9Pic";s:0:"";s:14:"yachtMenu10Pic";s:0:"";s:9:"yachtCrew";s:1:"3";s:14:"yachtCrewSmoke";s:3:"Inq";s:13:"yachtCrewPets";s:2:"No";s:16:"yachtCrewPetType";s:0:"";s:16:"yachtCaptainName";s:13:"Savio Autore ";s:18:"yachtCaptainNation";s:8:"Italian ";s:16:"yachtCaptainBorn";s:1:"0";s:15:"yachtCaptainLic";s:0:"";s:18:"yachtCaptainYrSail";s:1:"0";s:19:"yachtCaptainYrChart";s:1:"0";s:16:"yachtCaptainLang";s:34:"Italian, English, French, Spanish ";s:13:"yachtCrewName";s:17:"Alessandro Garcia";s:14:"yachtCrewTitle";s:8:"Deckhand";s:15:"yachtCrewNation";s:8:"Italian ";s:15:"yachtCrewYrBorn";s:1:"0";s:12:"yachtCrewLic";s:0:"";s:15:"yachtCrewYrSail";s:1:"0";s:16:"yachtCrewYrChart";s:1:"0";s:13:"yachtCrewLang";s:0:"";s:16:"yachtCrewProfile";s:2201:"Captain: Savio Autore, Italian, 42 y.o.

Salvatore was born and raised in the beautiful city of Naples. Soon after taking his degree, he embarked for his first job in the yachting industry as a Deckhand/Chef, and he discovered his passion for the sea. He decided to attain all the qualifications to become a Captain and in 2006 he started working at the helm of a private yacht, where he remained for five years, before embarking on another yacht. Salvatore holds many years of experience on board and an extensive knowledge of the Mediterranean coasts.
He's very respectful and discreet, a real lover of the sea and also a great chef. His ability to create a relaxed and cheerful atmosphere on board his yachts has no equals and he's very skilled in suggesting insider's restaurants and activities. Italian mother tongue, he also speaks English and French.


Stewardess: Costanza Costigliola, Italian, 29 y.o.

Costanza's communicative nature makes her an invaluable part of the team.
With a cosmopolitan spirit, always interested in foreign languages and cultures, Costanza achieved the high school linguistic degree and decided to join Yachting Industry to fuel her passion for traveling and exploring new places and cultures.
Costanza is goal-oriented, flexible, organized, and has a strong team spirit.
Italian mothertongue, she holds the STCW certification and speaks a good level of English and a basic level of Spanish.

Deckhand: Alessandro Garcia, Italian, 26 y.o.

Born in the green island of Ischia, Alessandro has an extensive knowledge of Amalfi Coast and a proven experience of 4 years in the Yachting Industry.
After attending the Nautical School, he soon started working in the maritime field as deckhand aboard luxury charter yachts dealing with maintainance and refit works and mooring operations.
Alessandro is a very sociable person, he loves travelling and experiencing other cultures. He looks forward to welcoming all guests with a warm smile.
Italian mother tongue, he speaks a basic level of English.

";s:14:"yachtCrewPhoto";s:0:"";s:13:"yachtCrew1Pic";s:73:"https://www.centralyachtagent.com/yachtadmin/yachtimg/yacht7545/7545crew1";s:13:"yachtCrew2Pic";s:77:"https://www.centralyachtagent.com/yachtadmin/yachtimg/yacht7545/7545crew2.jpg";s:13:"yachtCrew3Pic";s:76:"https://www.centralyachtagent.com/yachtadmin/yachtlg/yacht7545/7545crew3.jpg";s:13:"yachtCrew4Pic";s:0:"";s:13:"yachtCrew5Pic";s:0:"";s:13:"yachtCrew6Pic";s:0:"";s:13:"yachtCrew7Pic";s:0:"";s:13:"yachtCrew8Pic";s:0:"";s:13:"yachtCrew9Pic";s:0:"";s:14:"yachtCrew10Pic";s:0:"";s:14:"yachtCrew1Name";s:13:"Savio Autore ";s:14:"yachtCrew2Name";s:18:"Alessandro Garcia ";s:14:"yachtCrew3Name";s:21:"Costanza Costigliola ";s:14:"yachtCrew4Name";s:0:"";s:14:"yachtCrew5Name";s:0:"";s:14:"yachtCrew6Name";s:0:"";s:14:"yachtCrew7Name";s:0:"";s:14:"yachtCrew8Name";s:0:"";s:14:"yachtCrew9Name";s:0:"";s:15:"yachtCrew10Name";s:0:"";s:15:"yachtCrew1Title";s:8:"Captain ";s:15:"yachtCrew2Title";s:9:"Deckhand ";s:15:"yachtCrew3Title";s:11:"Stewardess ";s:15:"yachtCrew4Title";s:0:"";s:15:"yachtCrew5Title";s:0:"";s:15:"yachtCrew6Title";s:0:"";s:15:"yachtCrew7Title";s:0:"";s:15:"yachtCrew8Title";s:0:"";s:15:"yachtCrew9Title";s:0:"";s:16:"yachtCrew10Title";s:0:"";s:9:"yachtFlag";s:8:"Italian ";s:13:"yachtHomePort";s:17:"Ischia /Flexible ";s:14:"yachtWBasePort";s:7:"Naples ";s:8:"yachtRig";s:0:"";s:14:"yachtGrossTons";s:0:"";s:12:"yachtAcNight";s:2:"No";s:16:"yachtAcSurCharge";s:0:"";s:9:"yachtTubs";s:1:"0";s:20:"yachtLocationDetails";s:0:"";s:10:"yachtTerms";s:4:"MYBA";s:13:"yachtCaptOnly";s:0:"";s:15:"yachtSpecialCon";s:0:"";s:14:"yachtContracts";s:0:"";s:21:"yachtConsumptionUnits";s:9:"Litres/Hr";s:10:"yachtRange";s:10:"350 miles ";s:11:"yachtPermit";s:1:"2";s:12:"yachtLicense";s:1:"2";s:8:"yachtMca";s:1:"0";s:16:"yachtDeepSeaFish";s:0:"";s:10:"yachtSatTv";s:1:"0";s:9:"yachtIpod";s:0:"";s:10:"yachtVideo";s:0:"";s:17:"yachtSailInstruct";s:0:"";s:13:"yachtInternet";s:0:"";s:16:"yachtCaptainOnly";s:0:"";s:16:"yachtBrokerNotes";s:0:"";s:15:"yachtInsCompany";s:0:"";s:11:"yachtPolicy";s:0:"";s:14:"yachtLiability";s:0:"";s:18:"yachtEffectiveDate";s:0:"";s:17:"yachtContractName";s:0:"";s:18:"yachtCoverageAreas";s:0:"";s:12:"yachtInsFlag";s:0:"";s:16:"yachtInsHomeport";s:0:"";s:11:"yachtRegNum";s:0:"";s:14:"yachtConPhone1";s:0:"";s:14:"yachtConPhone2";s:0:"";s:14:"yachtConPhone3";s:0:"";s:11:"yachtConFax";s:0:"";s:17:"yachtWaveConEmail";s:0:"";s:13:"yachtConOther";s:0:"";s:12:"yachtManager";s:14:"Flying charter";s:16:"yachtManagerName";s:16:"Carlo Pettorosso";s:17:"yachtManagerPhone";s:15:"+39 08119566464";s:16:"yachtManagerToll";s:0:"";s:17:"yachtManagerEmail";s:21:"[email protected]";}
O:8:"stdClass":290:{s:7:"yachtId";s:4:"7545";s:9:"yachtName";s:11:"Resilience ";s:17:"yachtPreviousName";s:0:"";s:9:"yachtLogo";s:0:"";s:9:"yachtType";s:5:"Power";s:11:"yachtLength";s:2:"25";s:13:"yachtPowerCat";s:1:"N";s:8:"sizeFeet";s:8:"82.00 Ft";s:9:"sizeMeter";s:7:"25.00 m";s:9:"yachtBeam";s:4:"5.90";s:10:"yachtDraft";s:4:"1.80";s:10:"yachtUnits";s:6:"Metres";s:8:"yachtPax";s:2:"10";s:11:"yachtCabins";s:1:"4";s:9:"yachtKing";s:1:"0";s:10:"yachtQueen";s:1:"2";s:17:"yachtSingleCabins";s:1:"0";s:17:"yachtDoubleCabins";s:1:"2";s:15:"yachtTwinCabins";s:1:"2";s:18:"yachtPullmanCabins";s:1:"2";s:10:"yachtRefit";s:5:"2022 ";s:12:"yachtHelipad";s:2:"No";s:12:"yachtJacuzzi";s:2:"No";s:8:"yachtGym";s:2:"No";s:16:"yachtStabilizers";s:2:"No";s:14:"yachtElevators";s:2:"No";s:21:"yachtWheelChairAccess";s:2:"No";s:7:"yachtAc";s:4:"Full";s:15:"yachtPrefPickUp";s:7:"Naples ";s:16:"yachtOtherPickUp";s:0:"";s:15:"yachtTurnAround";s:0:"";s:14:"yachtYearBuilt";s:4:"2006";s:12:"yachtBuilder";s:8:"Alalunga";s:14:"yachtBrokerWeb";s:35:"http://www.viewyacht.com/resilience";s:12:"yachtUserWeb";s:48:"http://www.cyabrochure.com/ebn/2395/pdhaX/7545/1";s:13:"yachtVideoUrl";s:41:"https://www.youtube.com/embed/x19cq_ATZ6I";s:12:"yachtV360Url";s:0:"";s:16:"yachtCruiseSpeed";s:2:"23";s:13:"yachtMaxSpeed";s:3:"30 ";s:19:"yachtAccommodations";s:82:"2 Double, 2 Twin, both with a third bunk bed suitable for children
No
25.00 m
500
Litres/Hr
350 miles
Please note, Rates 2022: € 32.000 July/August € 27.000 June/September € 25.000 other months
Plus Expenses
2
Flying charter
http://www.cyabrochure.com/ebn/2395/pdhaX/7545/4
Inq
a:3:{s:16:"green_initiative";s:0:"";s:16:"reusable_bottles";s:0:"";s:19:"other_green_efforts";s:0:"";}
a:15:{s:5:"tanks";s:1:"0";s:9:"wet_suits";s:1:"0";s:15:"number_of_dives";s:0:"";s:11:"night_dives";s:1:"0";s:9:"dive_info";s:0:"";s:13:"communication";s:0:"";s:11:"full_course";s:0:"";s:14:"air_compressor";s:11:"Not Onboard";s:3:"bcs";s:1:"0";s:11:"weight_sets";s:1:"0";s:16:"number_of_divers";s:1:"0";s:20:"registrations_number";s:1:"0";s:11:"dive_lights";s:1:"0";s:10:"dive_costs";s:0:"";s:14:"scuba_on_board";s:35:"Yacht offers Rendezvous Diving only";}
a:4:{s:12:"fishing_gear";s:1:"0";s:17:"fishing_gear_type";s:0:"";s:4:"rods";s:0:"";s:16:"deep_sea_fishing";s:0:"";}
Italian
Italian
Italian
Yacht offers Rendezvous Diving only
1656059843
20
a:19:{s:10:"11-26-2021";i:1;s:10:"11-27-2021";i:1;s:10:"11-29-2021";i:2;s:10:"11-30-2021";i:1;s:10:"12-03-2021";i:1;s:10:"12-19-2021";i:1;s:10:"12-29-2021";i:1;s:10:"01-03-2022";i:1;s:10:"01-05-2022";i:1;s:10:"01-15-2022";i:1;s:10:"01-22-2022";i:1;s:10:"01-25-2022";i:1;s:10:"01-27-2022";i:1;s:10:"01-28-2022";i:1;s:10:"01-31-2022";i:1;s:10:"02-24-2022";i:1;s:10:"03-07-2022";i:1;s:10:"03-13-2022";i:1;s:10:"03-14-2022";i:1;}
a:2:{s:7:"updated";i:1656978321;s:5:"links";a:0:{}}
9888924
338403548
a:9:{i:0;a:10:{s:4:"link";s:69:"https://www.vesselfinder.com//vessels/RESILIENCE-IMO-0-MMSI-338403548";s:4:"flag";s:19:"United States (USA)";s:4:"name";s:10:"RESILIENCE";s:4:"year";s:1:"-";s:2:"gt";s:1:"-";s:3:"dwt";s:1:"-";s:6:"length";s:6:"18 / 5";s:4:"diff";i:7;s:4:"MMSI";s:9:"338403548";s:3:"IMO";s:7:"9888924";}i:1;a:10:{s:4:"link";s:69:"https://www.vesselfinder.com//vessels/RESILIENCE-IMO-0-MMSI-503019310";s:4:"flag";s:9:"Australia";s:4:"name";s:10:"RESILIENCE";s:4:"year";s:1:"-";s:2:"gt";s:1:"-";s:3:"dwt";s:1:"-";s:6:"length";s:6:"18 / 4";s:4:"diff";i:7;s:4:"MMSI";s:9:"503019310";s:3:"IMO";s:7:"9888924";}i:2;a:10:{s:4:"link";s:69:"https://www.vesselfinder.com//vessels/RESILIENCE-IMO-0-MMSI-338407217";s:4:"flag";s:19:"United States (USA)";s:4:"name";s:10:"RESILIENCE";s:4:"year";s:1:"-";s:2:"gt";s:1:"-";s:3:"dwt";s:1:"-";s:6:"length";s:6:"16 / 5";s:4:"diff";i:9;s:4:"MMSI";s:9:"338407217";s:3:"IMO";s:7:"9888924";}i:3;a:10:{s:4:"link";s:69:"https://www.vesselfinder.com//vessels/RESILIENCE-IMO-0-MMSI-338332353";s:4:"flag";s:19:"United States (USA)";s:4:"name";s:10:"RESILIENCE";s:4:"year";s:1:"-";s:2:"gt";s:1:"-";s:3:"dwt";s:1:"-";s:6:"length";s:6:"15 / 4";s:4:"diff";i:10;s:4:"MMSI";s:9:"338332353";s:3:"IMO";s:7:"9888924";}i:4;a:10:{s:4:"link";s:69:"https://www.vesselfinder.com//vessels/RESILIENCE-IMO-0-MMSI-227976540";s:4:"flag";s:6:"France";s:4:"name";s:10:"RESILIENCE";s:4:"year";s:1:"-";s:2:"gt";s:1:"-";s:3:"dwt";s:1:"-";s:6:"length";s:6:"13 / 4";s:4:"diff";i:12;s:4:"MMSI";s:9:"227976540";s:3:"IMO";s:7:"9888924";}i:5;a:9:{s:4:"link";s:69:"https://www.vesselfinder.com//vessels/RESILIENCE-IMO-0-MMSI-227219930";s:4:"flag";s:6:"France";s:4:"name";s:10:"RESILIENCE";s:4:"year";s:1:"-";s:2:"gt";s:1:"-";s:3:"dwt";s:1:"-";s:6:"length";s:6:"12 / 4";s:4:"diff";i:13;s:4:"MMSI";s:9:"227219930";}i:6;a:10:{s:4:"link";s:69:"https://www.vesselfinder.com//vessels/RESILIENCE-IMO-0-MMSI-338309595";s:4:"flag";s:19:"United States (USA)";s:4:"name";s:10:"RESILIENCE";s:4:"year";s:1:"-";s:2:"gt";s:1:"-";s:3:"dwt";s:1:"-";s:6:"length";s:6:"11 / 5";s:4:"diff";i:14;s:4:"MMSI";s:9:"338309595";s:3:"IMO";s:7:"9888924";}i:7;a:10:{s:4:"link";s:69:"https://www.vesselfinder.com//vessels/RESILIENCE-IMO-0-MMSI-368174230";s:4:"flag";s:19:"United States (USA)";s:4:"name";s:10:"RESILIENCE";s:4:"year";s:1:"-";s:2:"gt";s:1:"-";s:3:"dwt";s:1:"-";s:6:"length";s:6:"11 / 4";s:4:"diff";i:14;s:4:"MMSI";s:9:"368174230";s:3:"IMO";s:7:"9888924";}i:8;a:10:{s:4:"link";s:75:"https://www.vesselfinder.com//vessels/RESILIENCE-IMO-9888924-MMSI-229356000";s:4:"flag";s:5:"Malta";s:4:"name";s:10:"RESILIENCE";s:4:"year";s:4:"2021";s:2:"gt";s:4:"1401";s:3:"dwt";s:1:"-";s:6:"length";s:7:"65 / 12";s:4:"diff";i:40;s:4:"MMSI";s:9:"229356000";s:3:"IMO";s:7:"9888924";}}
1648047109